Kasia Vegan Girl Gang T-Shirt
So, I recently attended the It's A Vegan Ting Festival in London. And while I was there, I picked up this amazing Vegan Girl Gang T-Shirt.
I had seen it when I looked up the line-up before I attended the event. So I was elated to find it there and it was the last one left! Kasia Ethical Ware, the brand who I got this T-Shirt from, no longer sell this T-Shirt. But they do have a range of epic T-Shirts, as well as dresses, hoodies and they also do custom prints on organic tote bags.
I love my vegan and girl power slogan T-Shirts and wear them pretty much all the time, so growing my collection slowly and sustainably.
For me, Kasia is a great place to start as everything is ethical, fair trade and organic wherever possible. She hand prints all of the clothes in London and the entire company and brand is single handedly run by Kasia herself, so total Girl Power! 💪
I decided to team this T-Shirt with a pair of linen trousers that my Mom gave to me because they were too long for her (I am taller than my Mom by about 2 inches).
These trousers are perfect for this weather because they are lined for extra comfort (no sweat patches) and because they are linen they are super floaty and cooling.
This was actually the first ever blog post I did completely make-up free. It wasn't really a pre-thought out thing. I just looked in the mirror and liked the look of my skin for the first time in ages so I decided I would do the shots without make up. Plus this UK heatwave had me thinking that my make-up would just melt off anyway so why not share my natural glow with you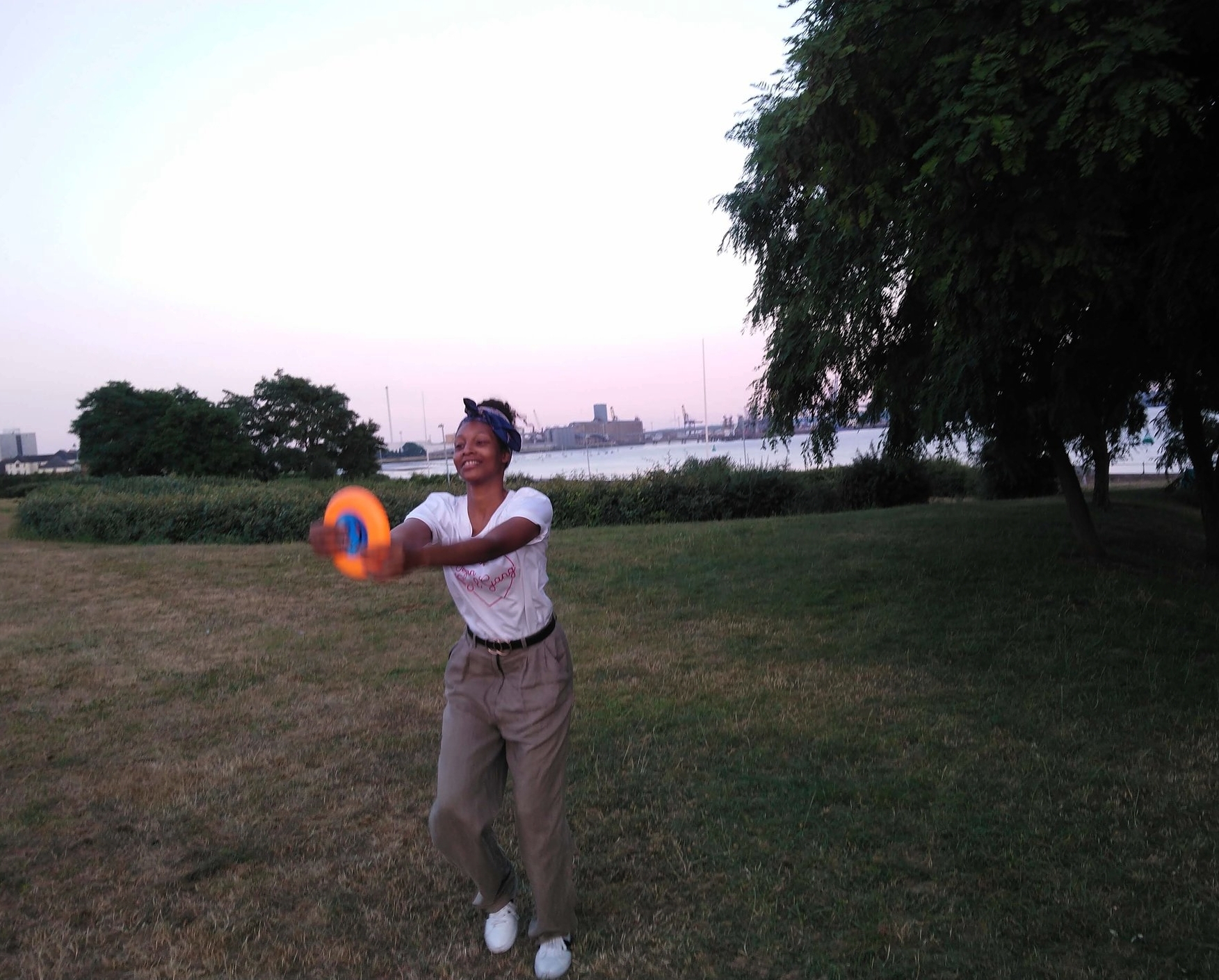 And I thought I'd have a nice little game of Frisby with BAE!
Kasia was even kind enough to give all of you guys a 15% discount which can be used up until 12th August! Enter GRENADINE15 at the checkout to benefit from this amazing discount! Don't say I don't ever do anything for you! 😘
Thanks for reading and happy shopping!  
If you loved this or know of any other ethical fashion brands, please let me know and feel free to share if you're feeling generous!  

Tanekka Fleary
@TheGoldenGrenadine